Want to take better photos of the night sky? Astrophotographer Tim Burgess knows how. Here's everything you need to take stellar shots...
Last month we took two top Instagrammers up to the skies above London to put smartphone cameras to the test, with some pretty great results. But what if you're pointing that camera up, rather than down?
To find out we've been speaking to Vodafone's own Tim Burgess, an award-nominated astrophotographer. So how exactly do you become an astrophotographer, and can we use the phones in our pockets to capture awesome shots of the night sky? Tim's reveals all…
A camera, a compass, and a retweet from the ISS
"Photography has always been something I've been involved in," Tim says. "My folks bought me little film cameras when I was tiny, and my interest only grew from there. I studied photography in college, and since then I've always had cameras with me. I've always had an interest in space and the sky. My love of astrophotography really started to grow when I started doing more long exposure landscape shots at night, with a friend, this then morphed into astrophotography, I realised I was reasonable at it!"
We'd say that 'reasonable' is a bit of a modest assessment. In 2013 Tim found himself being nominated for an award after one of his pictures found international fame:
"I was a finalist in the Astronomy Photographer of the Year with an image I took of the International Space Station, which was passing over Stonehenge.. That shot went viral – I uploaded it at about midnight and tweeted it, which was retweeted by Commander Chris Hadfield aboard the Space Station itself shortly after. He had about seven million followers at the time, so my feed just went crazy overnight – I had calls from ABC and Good Morning America in the States as well as UK television who all wanted to show it on TV."
And while Tim may have taken the shot on his DSLR, the phone in his pocket was the key:
"My phone was able to give me the information needed to set that shot up," he explains. "It could tell me when the ISS was passing. Then I used the compass on it to work out whereabouts in the sky it would be."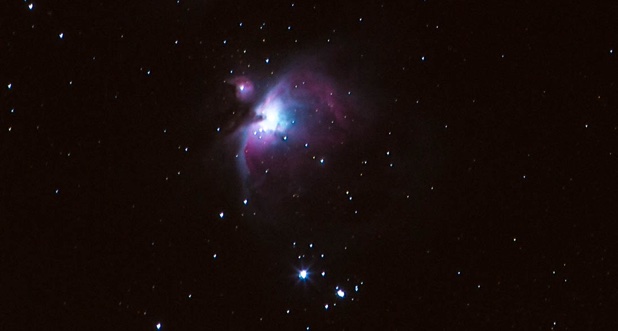 But what if you want to take great shots on your smartphone? Don't worry: Tim says doing just that is not only possible, but common practice among the pros:
"There's a camera always in your pocket now, and it's at the quality where you can capture really good images on the fly. And that's where astrophotography shines; people think it's difficult to take shots of the night sky, but it's not – it's just about knowing how to do it and where to be. You don't need a tripod or fancy equipment," he adds, "I've taken shots of the night sky before with the camera wedged into place on top of a jumper. You just need to make the most of the equipment you've got to hand."
Night sky snapping: Tim's top tips
Want to give it a go yourself? Tim's got some brilliant tips to help you get more from your night time mobile photography…
"If you've got your smartphone and a pair of regular binoculars you can take some pretty cool shots," he says. "You can put the phone lens right up to one of the binoculars' eyepiece to magnify the image. A lot of astrophotographers do this: they'll quite often put their phones up to a telescope to take shots, using binoculars isn't a lot different.
"It's about breaking that line of thinking that says you need to have a DSLR camera, a remote shutter, a tripod, etc., when actually you can take some great pictures with just your phone and a pair of binoculars – you can even get pictures of Jupiter and its moons with that setup. Just get your phone nice and stable.
No binoculars to hand? No problem; Tim suggests you rethink your approach:
"The problem with photographing things like the moon is that your smartphone camera will make it appear tiny. That's why people with DSLRs tend to use a telephoto lens: to get in there nice and close. If all else fails, try and capture the moon and stars in more general terms. Fit them into an astro-landscape. In other words: if you can't zoom in and take a nice shot of something, then don't. The tool you've got in your hand is probably great at wide angle stuff, so try and frame what you can get around trees or balance on the top of a bridge of something fun like that."
"The problem with photographing things like the moon is that your smartphone camera will make it appear tiny."
Luckily, there are plenty of tools to help you out, whether you're looking to line up your shots or tweak them to perfection:
"There's a whole ream of photo apps out there," says Tim, "and a lot of them a tailored to different things.
"Snapseed is a really good, quick and low cost way of editing pictures, but there are stacks of apps specifically for astrophotography, too. There's one called Planets that I use on my iPhone (also available for Android phones), which shows you what's in the sky and when, and how to find it. With it you can grab your phone and tell exactly which star or object is what.
"There are also specialist apps that help you set up your shot, like PhotoPills, which tells you where to stand and at what angle and time to get the moon or the ISS or things like that in your viewfinder. Likewise, the NASA app is great too, since it shows when the Space Station is going to pass over – with exact times."But whether you have a fully-fledged DSLR or a smartphone, and whether you're packed to the gills with apps or not, Tim encourages everyone to give astrophotography a go:
"A major part of this is showing people what they can get with what they've got," he says.
"Astrophotography doesn't have to mean deep space photography – it doesn't have to be shots of nebula or detailed shots of the lunar surface. It can just be a landscape picture with a beautiful, crisp night sky above it. You've nothing to lose by going out and having a play with the equipment you've got – including the smartphone in your pocket."