Lecturers at Coventry University will be teaching seminars using virtual reality powered by 5G this year, giving students access to interactive remote learning for the first time.
This new method of teaching will use the UK's first commercial 5G Standalone (5G SA) network and offer students the opportunity to interact with their professors in real-time, giving them an immersive experience with no time delays or lag.
Students can access a lesson on any connected device – such as a smartphone, tablet or laptop – and are able to ask questions while the lecturer is presenting.
Speaking to Vodafone UK News, Dr Natasha Taylor, an associate professor at Coventry University's Faculty of Health and Life Sciences, said: "Coventry University is always looking at ways of pushing the boundaries of teaching and learning to improve the student experience.
"I can put the headset on, and 5G allows the learner to access high-resolution images and videos remotely, anywhere in the world, and [they] are able to ask questions in real-time.
"This is the first time that 5G Standalone technology has been used commercially in the UK."
The VR lessons won't fully replace teaching, but will act as an extension of the teaching methodology, she says.
Virtual tours through the human body
The new technology will enable medical students to take a virtual tour through the human body and see how all the parts – from bones, muscles and the brain to the heart and red blood cells – work and interconnect.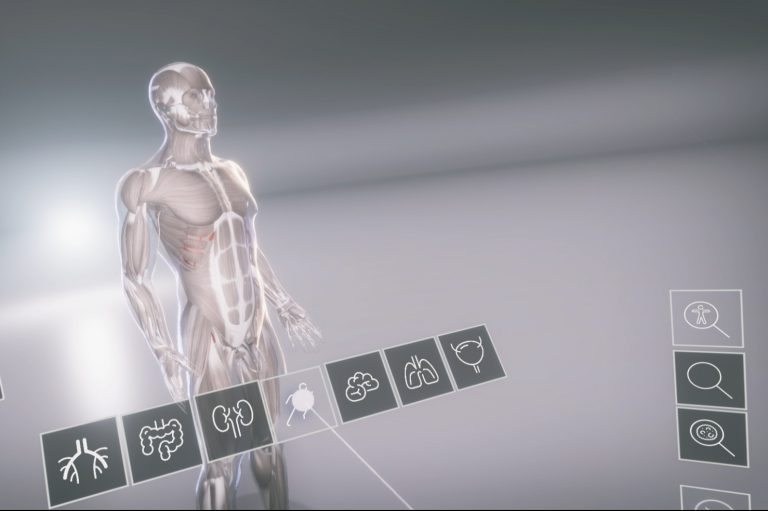 Credits: The Original Content Company/Gamoola
What differentiates this new way of learning is that teachers can access any part of the virtual body at any time – it is a real-time experience. Before, they would have to use pre-recorded materials, which would only let them to take a tour of the body in one linear sequence.
According to Dr Taylor, this will allow her to educate her students "at a level we've never been able to before".
Untethered VR
Andrea Dona, Head of Networks, Vodafone UK, said: "CloudXR is a new software platform developed to enable streaming of high-fidelity VR to mobile devices."
CloudXR™ has been developed by NVIDIA, and is now being deployed in a 5G network for the first time commercially.
Mr Dona continues, saying: "Previously you would have needed a powerful computer directly attached to a VR headset to deliver high-fidelity VR."
How does 5G Standalone work?
When 5G launched in the Summer of 2019, the fifth-generation mobile network was built on top of the existing 4G core network (4G LTE) – this is known as non-standalone.
What's new about 5G SA is that it works completely independently of the 4G network and has its own core architecture in place. This new architecture enables a set of technological capabilities that were not possible in the non-standalone world, such as network slicing and cloud-based edge computing.
Edge computing brings computing power closer to the customer – meaning it will guarantee the user much faster speeds and much quicker response times. It also enables millions more devices to be connected at the same time.
Network slicing means providing customers with dedicated portions of their network to guarantee security and performance. For example, a festival organiser may want slices of the network dedicated to security, emergency 'blue light' services, and broadcasting, while giving the festival-goers different slices for social media, calling or messaging.
Future-gazing concepts such as co-operating drones, haptic technology and Internet of Senses could start to be realised with the roll-out of 5G standalone.
"5G offers a lot more capacity, much faster uplink and downlink speeds – 10 times more than 4G," said Andrea Dona.
"The lower the latency, the closer you are to a real-life experience."