In this second part of our 'Upgrading your smartphone' guide, we explain how you can move over important data from your old phone to your new one if you're sticking with the same operating system.
Upgrading to a new smartphone that runs the same operating system (OS) as your old one means that migrating your data across is relatively straightforward. It's certainly a less fussy procedure than switching from one mobile OS to another.
Even so, there are some tips which can help make the process as smooth as possible, as this guide explains.
Upgrading to a new iPhone
If you're trading in your old iPhone for a newer model, then preserving and moving over all your data is straightforward.
You can back up the contents of your old iPhone to your iCloud storage, then download it to your new iPhone during set-up. By default, iCloud accounts come with 5GB of free storage. Although your apps and iTunes Store purchases don't count against this limit, you may find that 5GB isn't enough and you may need to purchase more from Apple to complete your back-up.
The back-up and download process may take a long time, depending on the upload and download speeds of your internet connection. To use iCloud, follow Apple's instructions for backing up and restoring.
Alternatively, you can back up everything on your iPhone to your Windows or macOS computer by connecting them to each other using either your charging cable or Wi-Fi. Using your computer, you can then restore the contents of your old iPhone to your new one. As this process doesn't rely on your broadband speed, you may find it to be significantly faster than the iCloud method.
To use this computer-based method, follow Apple's instructions for backing up and restoring.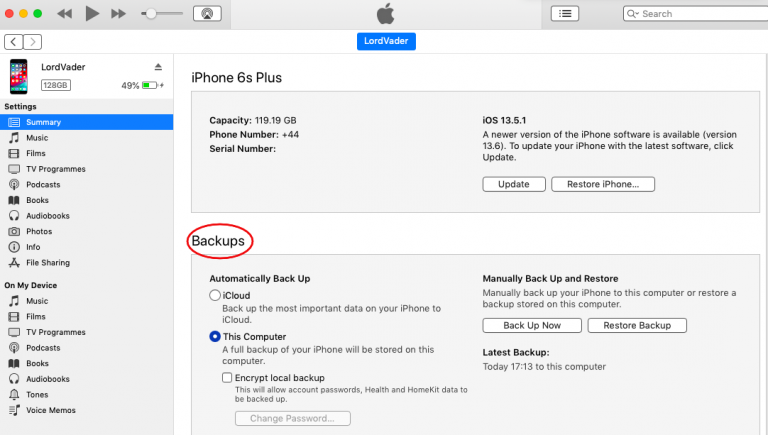 If you don't want to use a computer for whatever reason, but still wish to avoid the iCloud method, there is an alternative. Using a series of adapters, you can connect your two iPhones together to transfer your data over your charging cable. The catch with this method, apart from needing a gaggle of cable adapters, is that both iPhones need to be running iOS 12.4 or later, so you can't use it if you're moving from a model stuck on an older version of iOS. Apple has step-by-step instructions on how to do this.
Upgrading to a new Android phone
When moving from an old Android handset to a newer one, the age of your outgoing handset will greatly determine how easy it will be to transfer your data.
If your Android handset is running Android 6.0 Marshmallow (which Google released in 2015) or later, it will be able to back up your call history, texts, settings, contacts, calendars, app data and photos to Google Drive. This can be managed either in your old phone's settings or in the Google Drive app (this function will soon be moved to the free Google One app).
Backing up can take a while, depending on how much data you have on your old phone and your internet connection's upload and download speeds. Once complete, you'll be able to download that data to your new Android handset during set up.
As an alternative, the apps and services provided by some Android handset manufacturers for migrating data over from iPhones can also do the same for old Android handsets. What exactly can be transferred and how will vary. Samsung's Smart Switch app, for example, can transfer over the contents of your old phone via Wi-Fi, USB cable or microSD card.
Transferring across home screen layouts from one Android phone to another is a popular request.
In theory, this should be possible between any pair of Android phones made in the past few years. In practice though, given the variations in Android home screen interfaces from phone-to-phone, it's more likely to succeed if both phones have home screen interfaces that hew closely to Google's original design (as seen on its Nexus and Pixel phones).
Manufacturer apps may be able to help, but it's best to read the fine print. Samsung Smart Switch, for example, can transfer home screen layouts, but only from one Samsung Galaxy phone to another.
Learn more about the range of Android phones available from Vodafone UK, including the latest Samsung Galaxy models.