On Safer Internet Day, we shine a light on what parents - and the gaming industry - can and should be doing to protect children, amid reports that VR worlds are increasingly drawing groomers and racists.
It's all fun and games, right? Around 80% of UK children aged between 12 and 15 are estimated to play online games like Fortnite or Minecraft. The figure soared during lockdowns and, to many minds, this was no bad thing.
Children reported that games rescued their social lives. In January 2022, a study by the University of Trento in Italy, even found that gaming can boost academic achievement, exercising young people's memory, attention and reasoning skills.
Yet, there may be a darker side. In December, Europol warned that greater unsupervised internet access during the pandemic left children "more exposed to offenders through online gaming." Some had become "lonely and isolated, which offenders try to benefit from, connecting with them to produce explicit material or to arrange a meeting in real life."
Other children, Europol said, may have become more susceptible to games with "gambling-like elements" and in-game spending.
______________________________________________________________________________________________________________________________________________
You may also like…
______________________________________________________________________________________________________________________________________________
Little wonder, then, that 70% of British parents want the gaming industry to do more to protect children online. So, to mark Safer Internet Day, we are diving deep into gaming. What are the real dangers? What can parents do to keep their children safe? And what action should the industry itself be taking?
Predatory online worlds
In March 2021, social workers warned that criminals were using the online game Fortnite to meet and groom children as young as 12, offering them the game's virtual currency, v-bucks, in exchange for running drugs. Over Christmas, child safety experts also rang warning bells over VR headsets.
After the Center for Countering Digital Hate found several instances of child abuse, harassment, racism and pornography in the popular chatroom VRChat, its chief executive labelled the Metaverse "a haven for hate, pornography and child grooming".
What can parents do?
When it comes to protecting children from damaging in-game interactions, says educational psychologist Victoria Lewis, the aim is to "be proactive in a way that builds trust".
It's a strategy that requires parents to think both about prevention (how to protect your child from negative interactions online) and also reaction (what you would do should it occur).
 Step one
"Empower children to be capable of tackling challenges," suggests Ms Lewis. "Try to gauge your child's knowledge of the risks posed by interactions when gaming, and explore the strategies available for managing these."
This work can start early. From the age of around four, children are ready to begin exploring basic ideas like the difference between online and offline friends. She recommends Thinkuknow's age-appropriate videos about staying safe when gaming. Jess and Friends, for example, is targeted at 4-7 year olds, while Play, Like, Share works for 8-10 year olds.
Step two
"Form an agreement with [your child] about whether chat is going to be allowed, and how this might occur."
This agreement should include how and when you will monitor their interactions. These boundaries will change as your child grows, but agreeing on them, rather than merely implementing rules, makes it more likely they will be followed, builds their own capacity to manage risk, and makes it more likely that your child will come to you with concerns.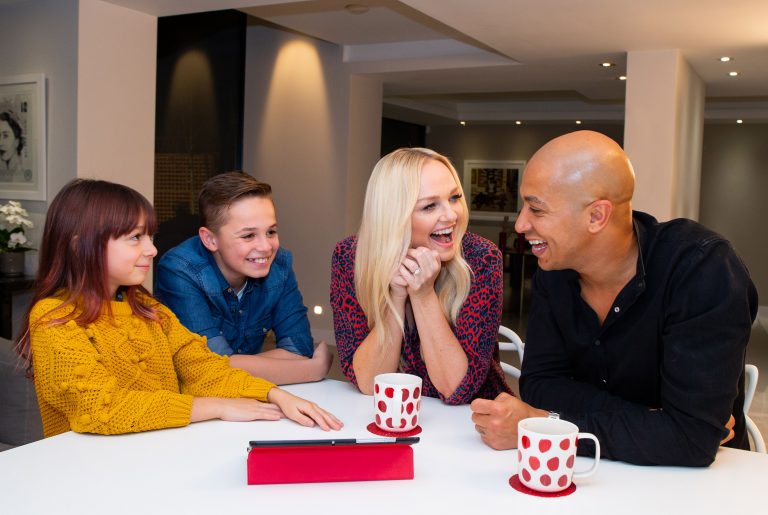 Try our Digital Family Pledge to help your family discuss the issues raised in this feature.
Step three
And if your child does come to you with a problem?
"It can be really distressing to hear that your child has come into contact with images, text or chat which can affect their wellbeing and threaten their safety, but it is important to try to listen to them within an open, caring and non-judgemental stance," says Ms Lewis.
"If they are in immediate danger, you will want to call 999. You can also report using the online form on the CEOP safety centre, or call the NSPCC helpline (0800 800 500) or Childline (0800 1111) for advice."
Most importantly: "Your child needs to know that they are not alone, that you are standing together."
Addiction and gambling concerns
In 2018, the World Health Organization recognised 'gaming disorder' as a medical condition, giving rise to parental concerns about addiction that were only exacerbated by more time spent online in lockdowns (last year, the number of children and young adults entering treatment for gaming addictions and disorders tripled.)
There's also the spectre of gambling: more than one-in-10 European 11-to-17-year-olds admit to having increased the amount of money they spent on in-game purchases over lockdown. And of course, there is the ever-present but so sar groundless worry  that violent content might encourage violence off-screen, too.
What should the industry do?
"The video game industry needs to support parents and protect children who play their games," says Andy Robertson, father of three, tech expert and author of Taming Gaming, Guide Your Child to Healthy Video Game Habits.
"I'd love to see PEGI ratings adopted by all the digital game stores in the UK – they are such a helpful tool for parents. I'd also love for the companies to collaborate on an app that would enable parents to set the same controls across different platforms and consoles (unlikely, but a dad can dream, right?)."
But, he says, it's important to begin with a clear understanding of the tools already available. All video game consoles and smartphones enable you to limit access to games by age suitability, as well as putting boundaries on the duration of game play per day.
Finally, children can spend money on these devices if you connect them to a payment method. If you do, you can (and probably should) protect it with a PIN.
What should parents do?
These controls are a great short-term solution, says Mr Robertson. But in the long-term, we want to develop healthy lifelong relationships with our children, as well as helping them to develop healthy habits and self-control.
So when it comes to video games, how worried should we really be? While reporting of research into gaming often suggests that video games cause violence, gambling or addiction, the science is more nuanced.
"The majority of studies in the key areas of concern uncover a correlation rather than causation," says Mr Roberston. That's not to say we ignore the connections "but we don't know the effects of that relationship. For instance, children with violent behaviour may well play more video games, but does that exacerbate or ease their behaviour?"
While these relationships are being further studied, pulling the plug on gaming might not only prove impossible, but unhelpful. Instead, Mr Roberston suggests something that might sound counterintuitive to many: "Playing games together as a family, as well as trying out more mature games ourselves. It's really the most powerful thing parents can do to ensure health and safety."
Not only will this give you a real grasp of the content, use and appeal of these games but, he says: "If we only police children's gaming, the danger is that they'll be reluctant to come to us if they do experience something disturbing, for fear that we will just take their games away.
"If they see you getting involved in gaming, they will be more likely to tell you about it."
In the end, it's not just about how our children communicate with strangers that matters, but how they communicate with us.
Stay up-to-date with the latest news from Vodafone by following us on Twitter and signing up for News Centre website notifications.