Lost your phone or had it stolen? We're here to make a bad situation better. Here's all the info you need on what to do next...
Losing your phone, or having it stolen, can be really stressful, which is why at Vodafone UK we want to make sure that everything afterwards is as smooth, quick and stress-free as possible.
So we've made the process of reporting and blocking a missing phone fast and easy.
Lost phone
If you've lost your phone, contact Vodafone straight away so we can bar the SIM card. This will ensure no-one can make calls, send texts or use the data on your number.
Order a new SIM card.
You may be able to pinpoint your phone's location via GPS and recover it. If you have an iPhone, it can also report its location to you through the Bluetooth connections of any other iPhones it comes close to, as well as through GPS. Apple calls this encrypted crowdsourcing feature the Find My network.
To set up phone tracking follow these instructions from Apple and Google. You will then be able to check the last known location of your phone from another iOS or Android device as well as using a web browser on your computer.
If you have a Samsung Galaxy Android phone, you can also set up and use Samsung's Find My Mobile service instead of, or in addition to Google's service.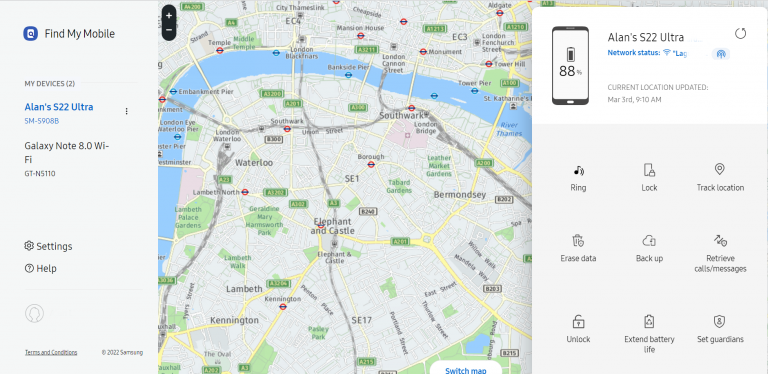 It has some additional features that may prove useful if you lose your Galaxy phone, such as the option to remotely check if anyone has used it for phone calls or texts.
Stolen phone
If you're sure it's been stolen, report this to us and we'll have the device blacklisted. This means it won't be usable on any mobile network, even with a different SIM in it. We do this by adding its unique International Mobile Equipment Identity (IMEI) number to an industry database.
Report the theft to the police so you can receive a crime reference number. You'll need this if you make a claim on your insurance policy.
DO NOT use any "find my phone" feature to track and confront the alleged phone thief as this could put you in danger.
How to contact us
Top security tips
Keep a record of your smartphone's IMEI number. This may be printed on your phone's box or packaging. Alternatively, type *#06# on the number pad of your phone's dialling app to see its IMEI number.
Register your phone on the Immobilise website, a free national register of possession ownership details. In the event that police recover your phone, they'll know who to return it to.
Back up your phone's data. You can automatically set up your Android phone to back up its contents to your Google account. Instructions on how to do so can vary depending on which specific Android device you own, but Google's instructions will apply to most modern Android phones.
You can set up your iPhone to automatically back up its contents to your iCloud account. Alternatively, you can connect your iPhone to your computer and store your backups there instead.
You can also remotely lock down your device, so that no one else can use it. In the case of iPhones, you have the option to display a lost-and-found message on the lock screen with your contact details in case a good Samaritan finds your iPhone.
If you're worried that someone may have accessed your personal data while the phone was lost or stolen, change passwords for all your online accounts: email, social media, online banking.